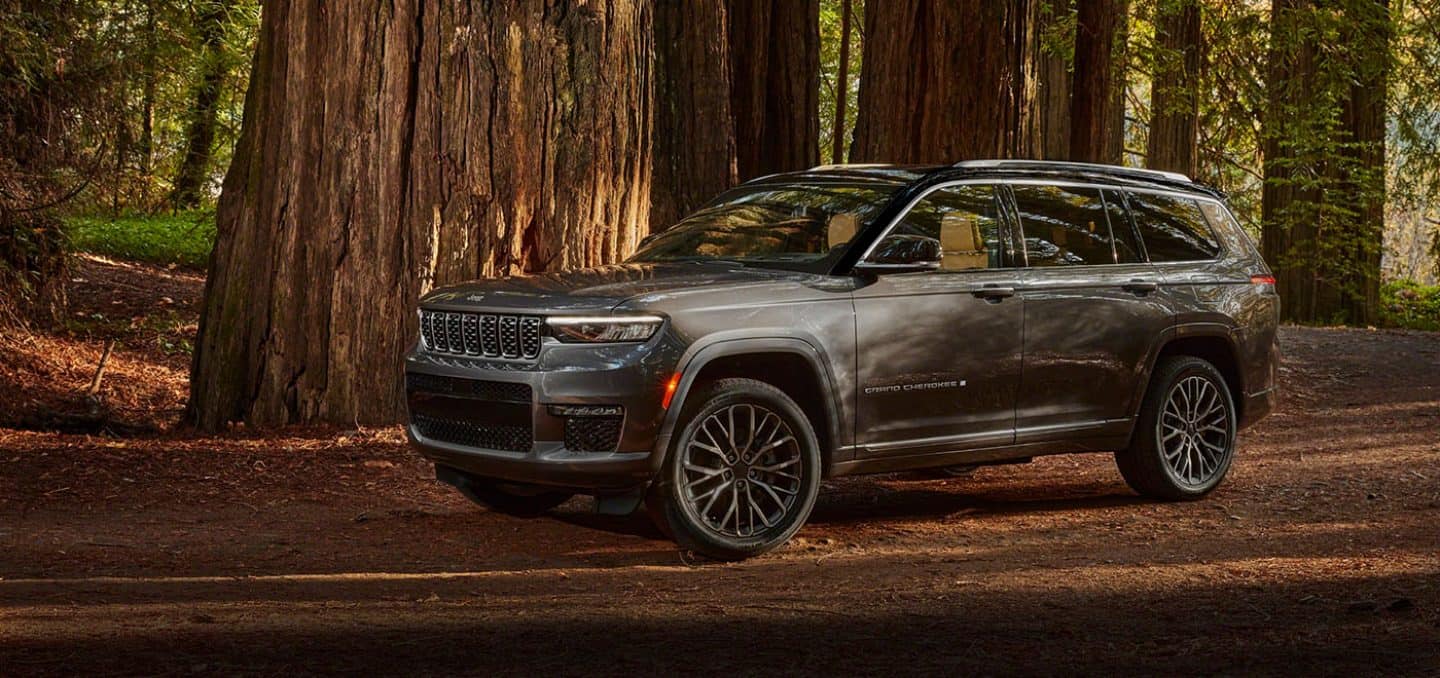 Top Jeep Grand Cherokee Accessories
Order Parts and Accessories with Reedman-Toll CDJR!
The Jeep Grand Cherokee is an incredibly versatile SUV! Not only does it offer two dedicated off-road trim levels in its 2022 lineup, but it also has lots of new and exciting features for everyone to enjoy. Plus, for the first time, drivers can now choose between two possible configurations, with either five or seven seats depending on your needs. There's a lot to love about the 2022 Jeep Grand Cherokee, and the best way to make the most of your vehicle is to select the perfect Mopar accessories! These accessories allow you to customize your vehicle to help you get exactly what you need. Many of them are OEM, or original equipment manufacturer, which means that these accessories are guaranteed to fit your vehicle! Keep reading down below to learn more about just a few of the many available accessories for your 2022 Jeep Grand Cherokee!
Interior Accessories
The Jeep Grand Cherokee has a spacious and comfortable interior with plenty of luxurious features to give everyone a premium driving experience. There are lots of accessories available on the Mopar eStore for you to customize your Jeep Grand Cherokee, including protective mats to lay down on your floors. These will protect the footwells from any dirt or debris, while also providing different textures depending on what you choose. For example, there are both carpet and all-weather mats that provide some waterproof protection. You can also find a metal pedal kit for a sportier look. Lastly, you can find first aid and roadside safety kits to stay prepared no matter what!
Carpet Floor Mats
Metal Pedal Kit
Roadside Safety Kit
All-Weather Mats
Exterior Accessories
The Jeep Grand Cherokee has a bold and instantly recognizable look with classic Jeep features like an angular, upright frame and seven-slot grille. You can add plenty of available accessories to really make your exterior right for you! For example, you can add side-steps that allow for easier entry and exit from the vehicle. There's also a rear bumper protector that will help you avoid nicks and scratches, especially while parking in tight parallel spots. Similarly, there's a full vehicle cover that you can put over the SUV to protect it from any pollen, dust, rain, or other factors your car might face while parked outdoors.
Side Steps
Rear Bumper Protector
License Plate Frame
Vehicle Cover
Cargo Management
The Jeep Grand Cherokee offers over 80 cubic feet of interior storage space for carrying all of your cargo for both you and your passengers! The rear seats also fold down to help you customize the amount of space you need. To help you keep everything organized, you can choose between accessories like the cargo tote, or the molded cargo tray. The tote has multiple different compartments so that you can sort all of your belongings into their own place. The tray will create a non-skid surface as well as keep things from rolling under the rear seats. There's also a carpet cargo mat, as well as a cargo liner. These accessories will protect the surface of your rear cargo area no matter what you carry!
Cargo Liner
Molded Cargo Tray
Carpet Cargo Mat
Cargo Tote
Roftop Racks
Despite having a spacious rear cargo area, sometimes you need a little more room to carry exactly what you need. This is especially true for carrying larger items like outdoor sports equipment, or camping gear. No matter what you need for your next adventure, Jeep has you covered with its wide array of available rooftop cargo carriers! You can find racks for just about anything, including a surfboard rack, or a bike rack with space for up to two bikes at once. There's also a rack for winter sports gear like skis and snowboards, and more! You can also find a hard-top carrier to load up with anything and everything you need, all while keeping your things protected from moisture or debris.
Surfboard Rack
Ski/Snowboard Rack
Bike Rack
Water Sports Carrier
New Jeep Inventory at Reedman-Toll CDJR!
If you're the proud owner of a 2022 Jeep Grand Cherokee SUV, then Reedman-Toll CDJR of Springfield can help you get the accessories you need! Here at our dealership in Springfield, Pennsylvania, our in-house service center team can help you order and install all of your desired parts and accessories. You can also browse Mopar accessories here on our website, and order online using the parts form. Or, if you're in search of a new SUV, be sure to check out our new Jeep inventory either in-person or online! As always, our friendly and knowledgeable team of sales associates will be more than happy to help answer any questions you may have. Shop online, or give us a call today at Reedman-Toll CDJR!