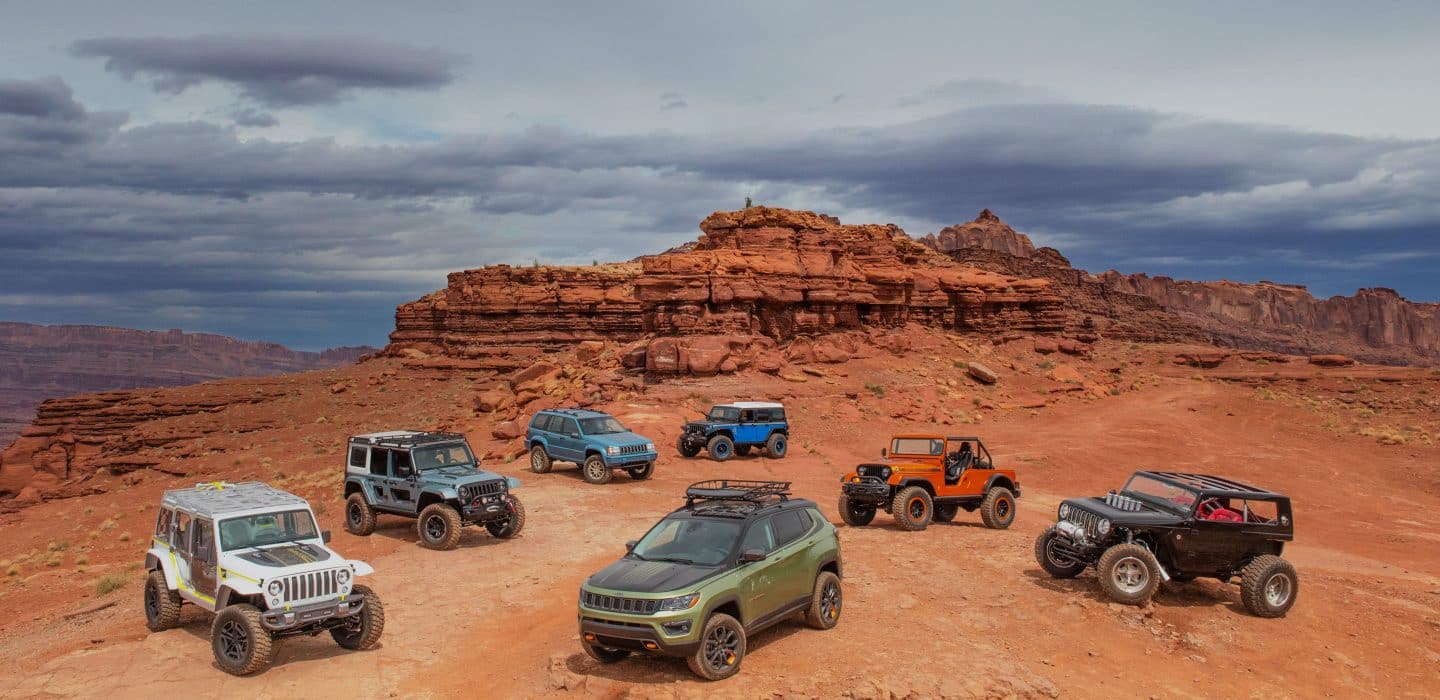 Jeep Clubs in Pennsylvania
When you think about Jeep, you think about open-air freedom, endless adventure possibilities, and a rich history! Jeep has created a lifestyle along with its SUVs that earns the "Go Anywhere. Do Anything" slogan. You can track Jeep's history back to the very beginning in 1940 when the Willys MBs became the vehicle of choice for the United States Army and Allied Forces. Civilians got their first taste of Jeep driving in 1945 and since then the love for these off-roading vehicles has only grown! Each Jeep offers incredible capabilities from towing to off-roading. 
4x4 Systems
There are quite a few 4x4 systems offered depending on the Jeep model. The Grand Cherokee's 4x4 systems include Quadra-Trac I, Quadra-Trac II, and Quadra-Trac SRT. Compass and Renegade models can be outfitted with Jeep Active Drive and Jeep Active Drive Low. Wrangler models offer the Command-Trac and Rock Trac systems while Cherokee models offer Jeep Active Drive I, Jeep Active Drive II, and Jeep Active Drive Lock. In addition to the 4x4 systems, there are other standard and available features like skid plates, front sway bar disconnect systems, and either brake-assisted, electronic, or mechanical off-road differentials offered for the best off-roading experience.  
Trail Rated
Models that feature the Trail-Rated badge are ready for any challenge that you may come up against when adventuring off the beaten path. Each Jeep SUV that earns this badge has been put through the ringer and come out on top after a series of grueling tests covering ground clearance, articulation, maneuverability, water fording, and traction! Testing starts at the FCA headquarters in their state-of-the-art facilities and then moves on to the cold of Northern Michigan and the boulders in the Rubicon. All Trail Rated Jeep vehicles are put to the test in order to provide the best off-roading experience for you! 
Why Join a Jeep Club?
To most, taking a Jeep off-roading is so much more than a hobby, it's their way of life and that's why they join a Jeep Club. There are many different types of Jeep clubs and each opens the doors to new adventures and experiences that you could not find on your own! If you're new to the Jeep family and don't know much about off-roading, joining a Jeep Club is a great way to learn all the ins and outs of off-roading and make your time off-roading more fun and safer! Jeep Clubs also open the door to trails and areas to off-road that you may not have known about before or that require a club membership. Organized Jeep Clubs are typically very active in their community, coming together to save trails from being closed and much more! There are a few more things to keep in mind when deciding which Jeep Club to join like the size of the club, larger clubs typically offer a network for contacting other members and more activities. Other things to keep in mind include the club's involvement in the community, if the club schedules trips and events, the level of participation required of you to join, and the average age of the members.   
Jeep Clubs in PA
There are tons of Jeep Clubs in Pennsylvania!
Blue Mountain Jeep Alliance is an established organization that strives to bring people who share the legendary Jeep vehicle in common! This group believes that eventually, your Jeep is an extension of yourself and that every obstacle overcome is a small triumph made possible with vehicle mastery, critical thinking, and teamwork! 
Jeeps "R" Us was founded in 1995 and members come from all over central PA. This group's activities include camping, rock crawling competitions, long distance trips, trail rides and so much more! This club is also family oriented and welcomes everyone.    
PA Jeeps is an educational, non-profit, and local organization that was founded in July of 1992. This group strives to protect everyone's right to use public lands from off-roading drivers to horseback riders and hikers. PA Jeeps has over 115 members and is still growing! Funding comes from contributions, fundraising events, and membership dues.  
Wicked Jeeps Western PA is a chapter of the National Wicked Jeeps Club. Membership for this group is open to anyone that drives a Jeep and members receive partner websites, discounts on club items and so much more! They also a Jeeping 101 class for those are just getting into off-roading!