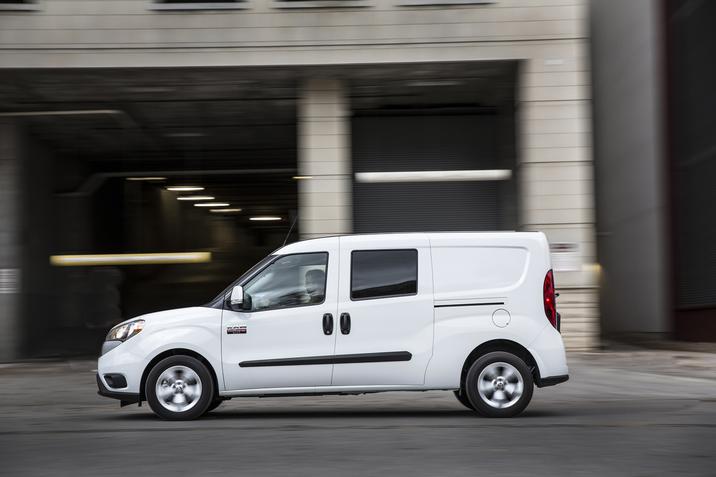 2019 Ram ProMaster Vans Revealed 
Ram ProMaster vans have changed the way many companies do business. These vans offer a wide variety of body styles that make them perfect for a wide variety of commercial vehicles whether it's their office on wheels or their go-to delivery van! Ram is kicking things up a notch for the 2019 model year by outfitting both the ProMaster cargo van and ProMaster City vans with fleet-friendly technologies, increased payload and towing capabilities, and new exterior looks! Both vans now showcase a revamped front fascia that integrates the "RAM" grille theme carried over from the Ram pickup truck line. For those with fleets of ProMaster vans, you'll find the Ram Telematics system handy. This system is powered by Verizon Connect and helps promote safe driving, improve route efficiency, improve fuel economy, and track driver and vehicle behavior. 
Can you tell us more about the ProMaster Cargo Van?
The ProMaster Cargo Van falls into the Class 2 full-size van segment and is available in a total of 18 configurations! This van packs in a ton of best-in-class features like payload, maximum cargo width, cargo width between wheel wells, load-floor height, standard interior cargo height, turning diameter and standard engine! Speaking of the engine, beneath the hood of each ProMaster Cargo Van you'll find the beloved Pentastar 3.6-liter V6 paired with an automatic six-speed transmission. 
What is Ram bringing to the ProMaster Cargo Van for the 2019 model year?
The 2019 ProMaster gains an exclusive front-wheel-drive system that reduces complexity and weight by having all components located beneath the cab. This also helps the ProMaster offer a very low step-in height and cargo-load floor height. This system relocation is also great for traction in less than ideal weather conditions as there is always weight to give the front wheels traction. The fun doesn't stop there! The ProMaster Cargo Van is getting three new trim levels for the 2019 model year! They include the 2500 Cargo Van with a 136" wheelbase and the low roof, the 3500 Cargo Van with a 136" wheelbase and the low roof, and the 3500 with the 136" wheelbase and the high roof. Ram is also increasing the ProMaster Cargo Van's payload by almost 240 pounds to a maximum of 4,680 pounds. That's the highest payload of any cargo van in Class 2 on the market today! The towing capabilities got a boost too! Up 30% from previous model years maxing out at 6,800 pounds! Outside, the exterior of the Cargo Van is getting optional Black Steel wheels, and new black bumpers and side panels. 
Can you tell us more about the ProMaster City van?
The ProMaster City van falls into the Class 1 van segment and is offered in two trim levels. They include the two-passenger Tradesman and five-passenger SLT. This capable van is both more modern and professional in 2019 with a bold exterior design and incredible versatility so you can get the job done every time! This ProMaster van also offers a boatload of best-in-class features like a 448-mile driving range on the standard engine, a 112.4-inch wheelbase, cargo width between wheel wells, cargo width and length, cargo volume, and payload. The ProMaster City van is powered by a 178 horsepower engine that creates 174 pound-feet of torque and is matched to an exclusive automatic nine-speed transmission. 
We are going to have to wait a little while until the 2019 ProMaster vans hit the market so until then check out our current ProMaster inventory
right here
. If you want to stay updated on when these vans will be available fill out the contact form below or give our sales department a call!