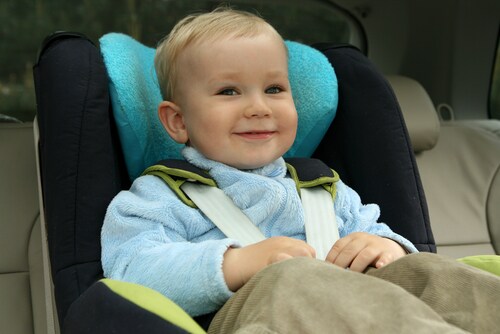 Potty Training on the Go
Anyone who has every potty trained a toddler knows that doing this at home is VERY different from on the go. When you're home, you can control the environment, your toddler knows the routine, and there's a good deal of consistency. But when you're out, this learning experience can become both a literal and figurative mess.
You don't want to go back to diapers and let your child think that it's an option, but when you're on the go with a newly trained toddler, accidents are almost a given.
Parents of toddlers are quick to locate public restrooms everywhere they travel, and smart parents are proactive and seek out any and all restrooms before necessary. But traveling in the car presents a new set of challenges. Here are a few tips that may help you survive car time with a newly trained toddler.
Get a Liner. Use the pad to line the carseat. Your child may not stay dry during the car ride, but at least you won't have to remove and wash the carseat liner, or worse, have to travel to the next location with your child sitting in a damp seat.
Layer Up. For brand new potty trainers, layers can be key. We used to put a Pull Up OVER my daughter's underwear for car rides when potty training was new. It didn't feel like a diaper, because the underwear was against her skin. But if there was an accident, we were covered and would only need to change the underwear - not the whole outfit. We called her Pull Ups "traveling pants" and it never created any confusion.
Have a Car Potty.The car potty was a lifesaver when we were first potty training, and we still keep it in the car now, even though we've been a diaper free home for two years. We bought a travel potty on Amazon that came with lined disposable bags and can be folded to carry along, but we've seen plenty of friends keep a regular potty seat in their trunk that they just dump and wipe out when nature calls. Small kids have small bladders, and although they're developing bladder control, understanding the concept of "no bathroom for five more miles" isn't one that they can handle. We taught our girls to let us know far ahead of time, but we've also been grateful for the ability to pull over anywhere and let the girls get some relief.•
Plan Ahead. Our family rule is that everyone visits the bathroom before we go anywhere. Everyone. Adults, kids, doesn't matter. You try. It's not foolproof, but even two years removed from potty training it's effective. We also check out the routes that we're traveling and map out the best places to stop if necessary.
Keep an Accident Bag JUST IN CASE. Our accident bag has a spare set of clothes for each child, all the way down to socks. I even keep a pair of cheap flip flops in there - just in case we need them. The bag also holds hand towels to line a car seat if it gets damp, and wipes for clean up if need be.
Road tripping with a newly trained toddler can be challenging, but with some planning, it can also be a great learning experience!