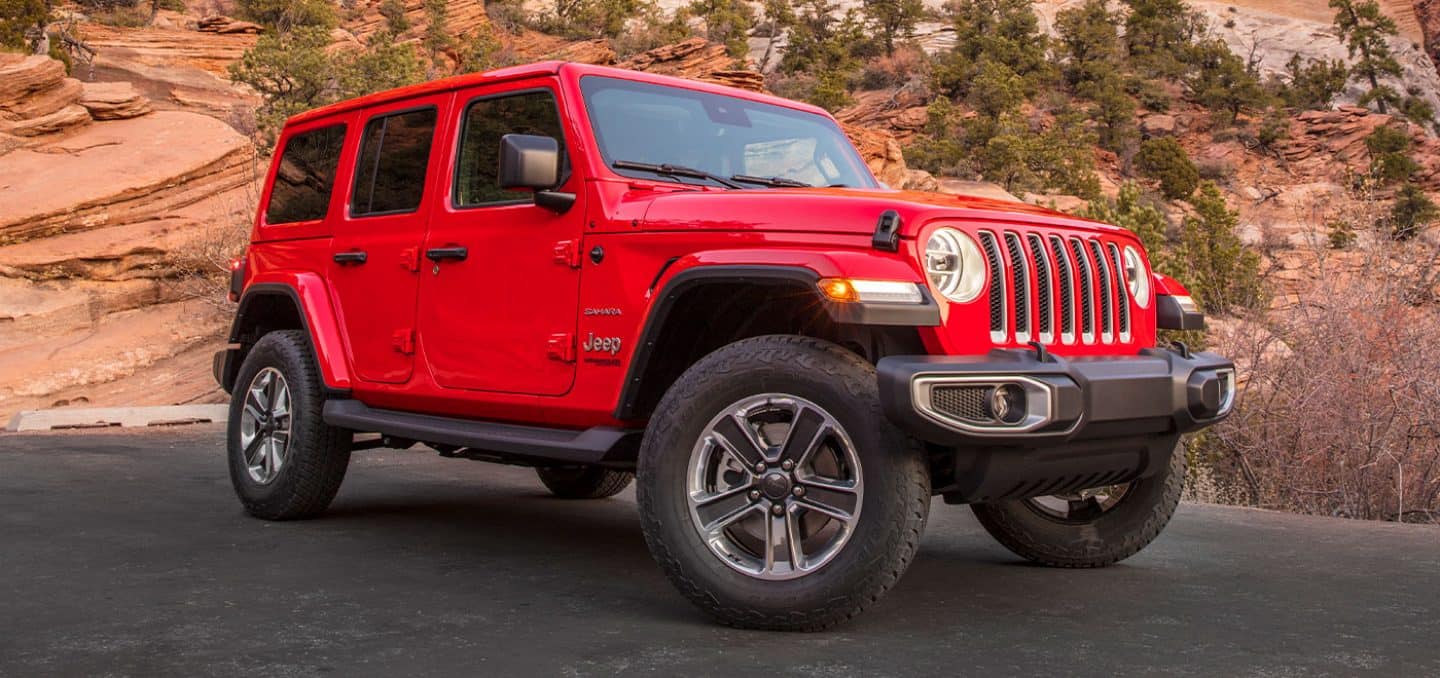 Jeep Wrangler Service Schedule PA
Schedule Service at Reedman-Toll CDJR!
The Jeep Wrangler is one of the most iconic vehicles on the market, and it also boasts an 80-year legacy within American history! Jeep debuted the first-ever iteration of the Wrangler during World War II, and ever since then, it has continued to grow in popularity and endure within the SUV market over the years. The Wrangler is celebrated for its impressive off-road capability, allowing you to push the limits on your adventure, and take on the roughest terrain that few other SUVs can handle! Even though the Wrangler can certainly take a beating, it's important to keep up with all of your routine maintenance services so that your Wrangler can continue to perform to the best of its ability! There are many different services that your Wrangler will require over the course of its lifetime, and we'll be breaking it all down as we describe the ideal service schedule for the Jeep Wrangler. Read on to learn more about these services, and to find out how to schedule your appointment at Reedman-Toll CDJR!
What are the Benefits of a Service Schedule?
You may be wondering why you should map out a service schedule for your Wrangler in the first place. To put it simply, a service schedule is a great tool for helping you stay organized so that you know which services your Wrangler needs. As you'll see down below, your vehicle will require different services at different points in time, so you need to have some sort of system to keep track of not only what kind of service your Jeep needs, but when that service needs to be done. Keep in mind that service schedules are an overall view of your vehicle's needs, and it's always important to address the specific conditions of your actual vehicle. If you suspect that your Jeep might need other services not listed here, don't hesitate to speak with our technicians here at Reedman-Toll CDJR to learn more!
Jeep Wrangler Service Schedule
8,000 Miles
This first major service appointment keeps things relatively simple! You should be sure to get your oil changed, as well as your oil filter. At this point, you should also be sure to get a tire rotation. You can go ahead and repeat these services about every 7,500 miles thereafter, though be sure to pay attention to how often you drive. Driving often or favoring rough terrain will most likely require more frequent maintenance to keep your Wrangler in great condition.
16,000 Miles
Once another 8,000 miles has passed, you will have gotten another oil change, as well as another tire rotation. At this point, it's also time to replace the air conditioning filter, and the brake linings, changing them out for new ones if need be. You should also have your suspension inspected, and have your mechanic check up on the tie rod ends. They will then go on to replace any damaged or worn parts as needed. Lastly, inspect your exhaust system to make sure your Wrangler is still running as efficiently as it can.
32,000 Miles
Next up, we're jumping ahead to your 32,000-mile appointment. At this point, you'll likely have had your Wrangler for about two full years! In the meantime, you will have completed two oil changes and two tire rotations since your 16,000-mile service, and you should also inspect the exhaust system, and the CV or Universal joints. In addition, now's the time to replace your spark plugs, your air conditioning filter, and inspect and replace your brake linings. Once more, your mechanic will also inspect your Wrangler's suspension. This is important because driving on the uneven surface of an off-road trail can really throw off your suspension without proper maintenance.
64,000 Miles
By the 64,000-mile mark, you will have had your Wrangler for four years! It's amazing how time flies when you're having fun! At this point, getting your Wrangler serviced should be second-nature, especially when it comes to those regular oil changes and tire rotations, which should still occur every 7,500 miles. You should also replace your AC filter once again, inspect the CV joints, inspect the exhaust system, and inspect the brake linings. If you've been doing any off-roading, towing, or other heavy-duty driving, your should also change your transmission fluid. You'll want to replace your spark plugs, and change out fluids like the power transfer unit (PTU) and rear drive assembly (RDA) fluids. You should also inspect your suspension, and repair any cracks in the boot seals.
96,000 Miles and Beyond
If you've been regularly taking care of your Wrangler, then you can expect it to last for years to come, long after the 96,000-mile mark has come and gone. Luckily, by this point you'll have a much better handle on your Wrangler's maintenance needs, and it will only get easier and easier to remember when to schedule service appointments after you've gotten into the habit. Once you reach 96,000 miles, you'll see a lot of the previous services repeat such as your oil change, tire rotation, AC filter replacement, spark plug replacement, and suspension inspection. If your Wrangler has four-wheel disc brakes, make sure the parking brake gets adjusted. Again, if you're doing any off-roading, trailering, or driving in extreme heat, have your transmission fluid changed.
Jeep Wrangler Service Center Near Me
If you're the owner of a Jeep Wrangler and looking for the perfect service center to get your maintenance taken care of, then Reedman-Toll CDJR is the dealership for you! Here at our service center in Springfield, Pennsylvania, we can handle all of your routine service needs, as well as any repairs for issues you might be experiencing. We can also help you out by ordering and installing any parts and accessories you desire. Take a moment to browse our current service specials right here on our website, and schedule your appointment today by filling out the online form. From all of us here at Reedman-Toll CDJR, we look forward to working with you soon!