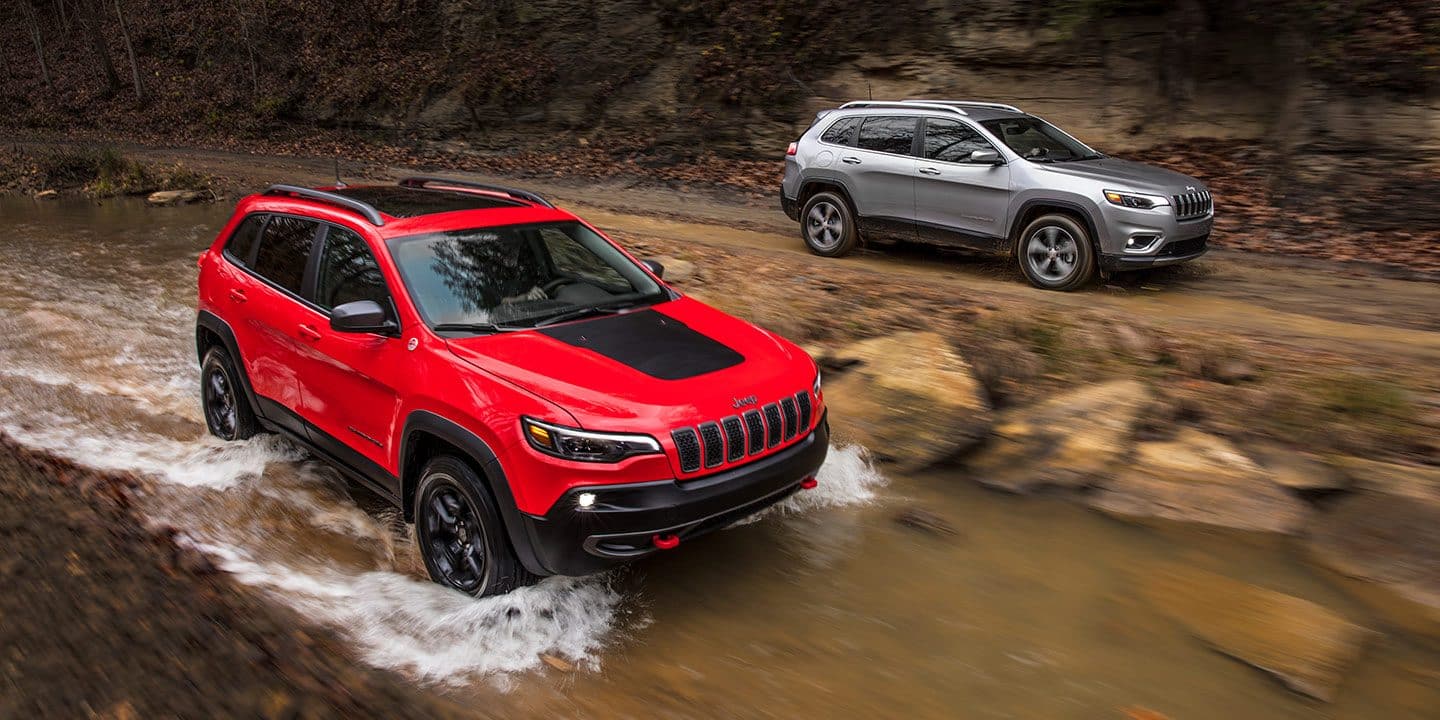 There is little doubt that highly-efficient powertrains are behind the 2019 Jeep Cherokee's impressive capability. Without a mighty engine, the Cherokee's 4x4 system wouldn't have the power needed to climb boulders, rocks, or even hills.
The standard engine for the 2019 Jeep Cherokee is a 2.4-liter PZEV MultiAir2 Tigershark I-4. The Tigershark engine produces 180 horsepower and 170 lb-ft of torque. For 2019, noise vibration and harshness have been improved thanks to changes to air intake applications. Increases in volumetric efficiency and reduction sin engine-pumping losses are achieved with the acclaimed electro-hydraulic fully variable valve-lift system. Instead of the traditional mechanical link between the camshaft and intake valves, the system uses a column of oil.
With almost twice the amount of power as the standard engine is the optional 3.2-liter Pentastar V-6 engine. The V-6 pumps out 271 horsepower, 239 lb-ft of torque, and delivers a best-in-class V-6 towing of 4,500 pounds. Manufacturing efficiency is increased while weight is reduced thanks to the individual exhaust-manifold runners that are apart of the aluminum cylinder-head casting. Performance of the Cherokee is improved with the help of the 24-valve engine's 10.7:1 compression ratio which also aids in lowering fuel consumption. The variable-displacement oil pump is programmed to operate as needed and also works to further improve fuel economy.
Finally, Jeep offers a new 2.0-liter direct injection turbocharged inline four-cylinder engine with stop-start technology for the 2019 Cherokee. The turbocharged engine is considered to be one of the most technologically advanced engines in the automotive industry today and produces 270 horsepower and 295 lb-ft of torque.
The engine stop-start technology mated with the turbocharged engine delivers impressive fuel economy. The engine also features low emissions, enhanced driveability, and a quick 0-60 miles per hour launch performance. Being apart of the Global Medium Engine architecture family means the turbocharged engine also features dual independent camshaft timing, double overhead camshafts, and a cooled exhaust gas recirculation system. Outstanding performance and responsiveness on both asphalt and difficult terrain are achieved with twin-scroll low inertia turbocharger with an electric actuated waste gate. The turbocharger, throttle body, and intake air temperatures are all lowered by a dedicated cooling circuit.
Increased engine reliability is provided by a water-cooled exhaust manifold that is integrated into the cast aluminum alloy cylinder head. The cylinder head also features a central injector and high tumble intake ports that provide high charge motion and balanced air flow, which improves performance and fuel efficiency.
All three of these impressive engines are paired with an upgraded TorqueFlite nine-speed automatic transmission. New software in the gearbox helps to further refine driveability. The upgraded transmission also delivers aggressive launches, improved fuel efficiency, and smooth power delivery at highway speeds.
Interested in learning what else makes the 2019 Jeep Cherokee such an impressive vehicle? Just swing on by the dealership and chat with one of our knowledgeable sales associates or you can read our full model review here.